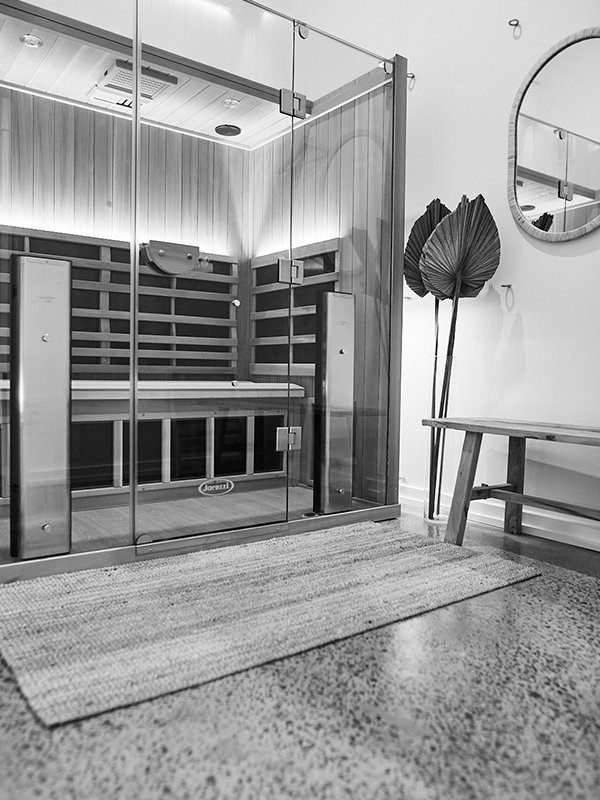 Sauna
An Infrared Sauna session aims to support the relief of pain, stress and toxins that are held within the body. Using short infrared waves emitted through heating panels, the body's temperature, heart rate and blood circulation is gently risen to permit detoxification at the cellular level — Encouraging stimulation of the lymphatic, immune and cardiovascular system. Radiated heat can penetrate deep within muscles and tissues, targeting areas of tension while releasing tightness and inviting tenderness. 
Members – $35 / $300 – 10 visit pass
Regular Price – $45 / $400 – 10 visit pass

Bring a friend + $15
Towel – $3
Our Infrared Sauna is located within a comfortable and private room, giving you time and space to focus on a state of renewal. Other benefits of infrared sauna sessions include: 
Boosting collagen, through reducing tightness and removing dead skin cells
Recovery of injuries, by increasing blood circulation to promote muscle repair
Healing of wounds, targeting the epidermis and dermis layer of the skin
Increasing dopamine, while decreasing cortisol
Improving sleep, complimenting rest
Tending to your wellbeing, allowing time for rejuvenation
Before your session:
Stay hydrated prior to your visit, and ensure that you pack a water bottle to fill up with our filtered water. It is also important to remove any personal products before your session to allow your skin to cleanse and absorb the gentle waves without interference. You are more than welcome to bring a friend for a small additional fee, please select 'session for 2' upon check-out.
Remember to pack a towel (they can be hired from us if you forget) and any material you'd like to use during your session. 
During your session:
You'll have 35 minutes to read a book, listen to a podcast, or simply practice stillness as the body reaches a state of warmth and release. Undressed or minimal clothing (swimwear or breathable undergarments) is encouraged. 
After your session:
Please use the complimentary bathrobes provided to walk over to our restrooms for your post-session rinse. Our showers are stocked with EcoStore body wash for your convenience and care.